With the AA-Litter we start completely new – a new alphabet. And if you start completely new you better start with something old – then you know what you get.
So, we take the X-Litter and out comes the AA-Litter. The X-Litter was Trewater River and Dailuaine Jewel In The Crown. And because we want to start new, this time we take Dailuaine Jewel In The Crown and Trewater River.
Why we do so? Because the X-Litter is an exceptional litter, all health-results of hips, ellbows and eyes turned out positive, because it is Jewels last litter and because we wanted to.
The mating was perfect – just with old mates. And to make it special for both, they did it on Valetine's Day – pretty romantic, isn't it?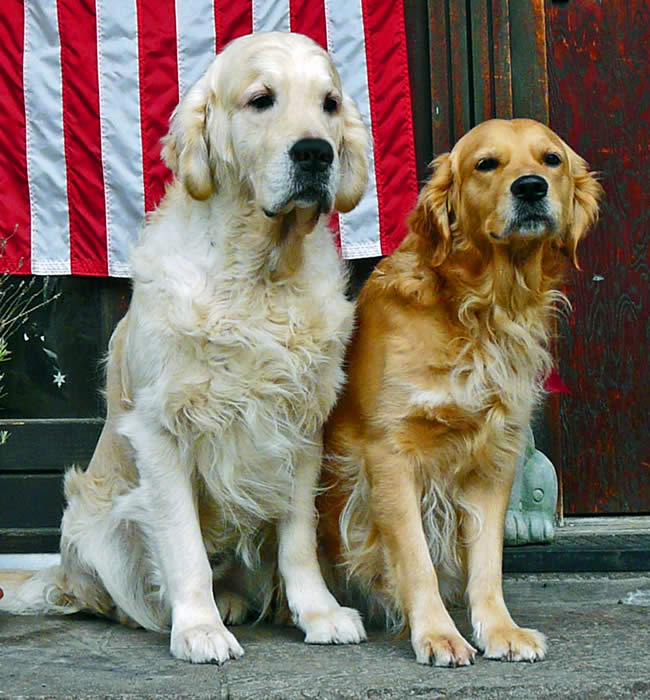 Here they are – sitting at the front door watching the world go by, just like an old couple, perfectly acquainted with eac other. No wonder, they stick together the whole day.
Looking at the pedigree, The experts among you will notice that this is an ideal combination of my major breeding lines, the Amirene-line and the Trewater-line. Ordinary people count the reds as usual and feel the same. By the way, the Pedigree of the AA-Litter is absolutely identical to the X-Litter with mathematical precision.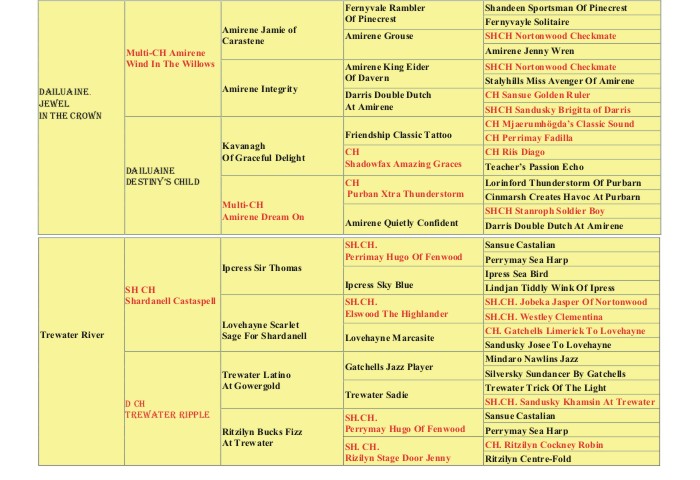 On the 20th of April, between 2 and 4 a.m.,the little AA's were born. The whelping wasn't quite easy, because – as common with small litters – labor was quite tedious, so Jewel had to fight hard to bring out the first one. Well indeed, I pulled that little girl more out than Jewel pressed her out. But it turned out fine, nothing was missing. The second girl shot out all by herself, only 20 minutes later. Then it was nerve-wrecking – it took almost two hours, till puppy No. Three knocked at the door. We said "come out" but he refused to appear. So it was time to use my fingers again – with a firm grip I pulled him out, it was more intense than the first time, but no wonder, it was a stubburn boy and he weighed 568 grams – far more than his sisters with 348 and 412 grams.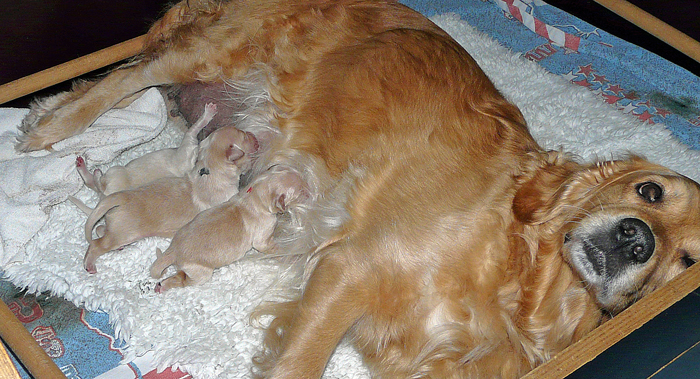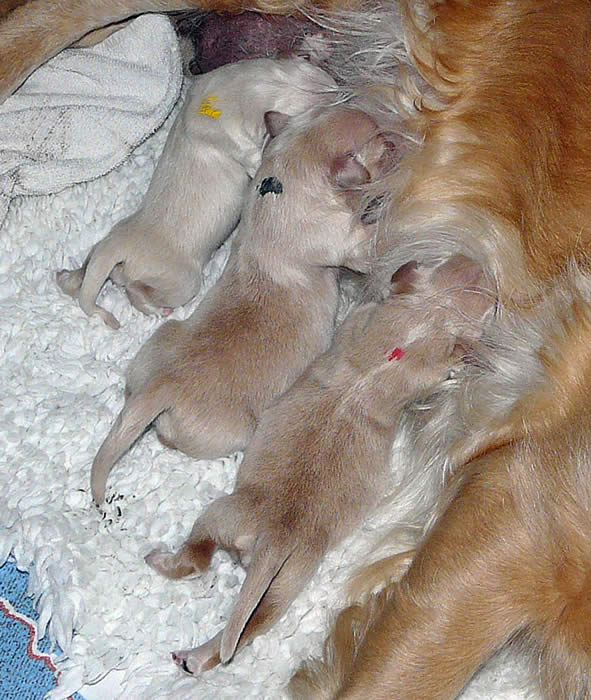 Well, now they are 11 days old, the eyes start opening and everybody is more than fine. They all tripled their birthweight already and I am looking forward seeing them tumbling around their whelping room. And I hope they don't use their fat bellies as a support wheel. And if, they would resemble my very dear husband, because when he lays on his belly, hands and feet won't touch the ground and I have to give him a hand to get him back on his feet. And that is a major act – believe me!
So take a look at the thresome and chill out: It lt's not what it may look like – they are still alive and kicking.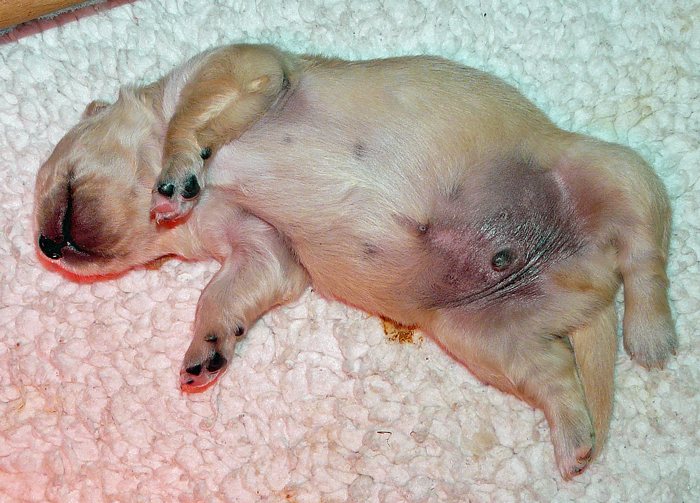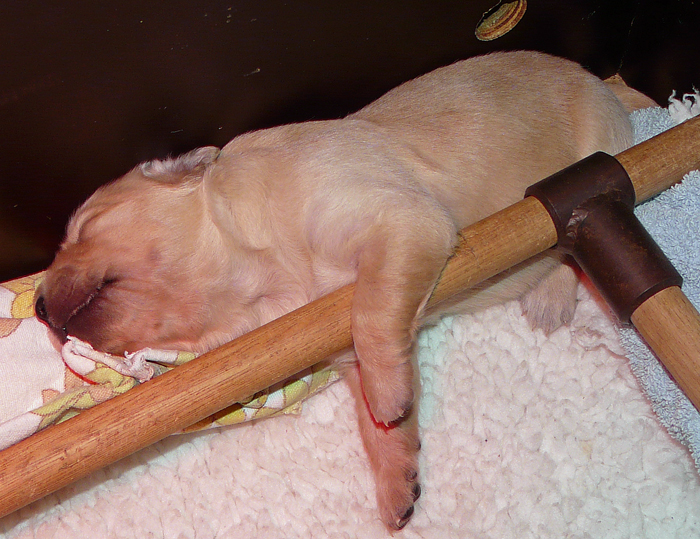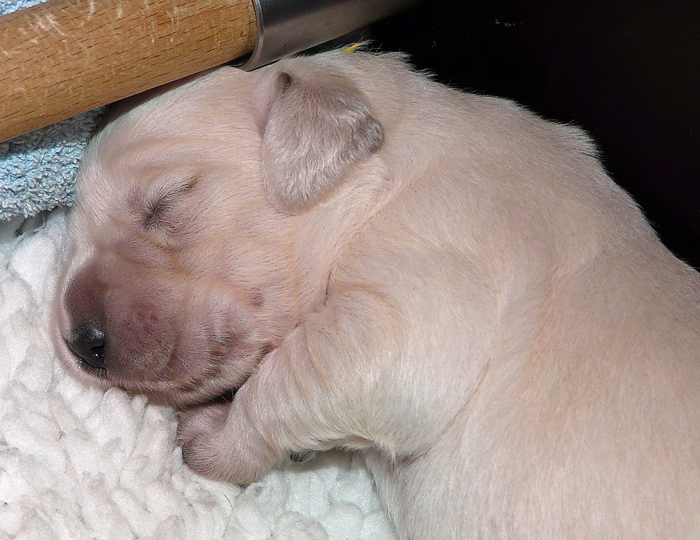 And with every day they become prettier and prettier – here you see our little AA's six weeks old – don't get distracted by the wonderful rhododendren-blossoms, the pups are the center of attraction.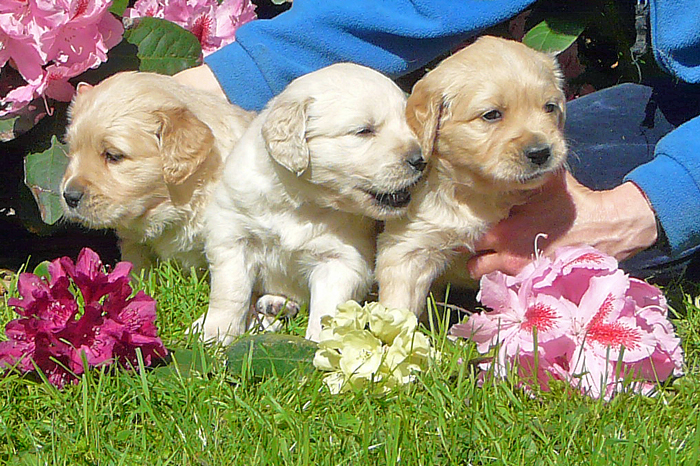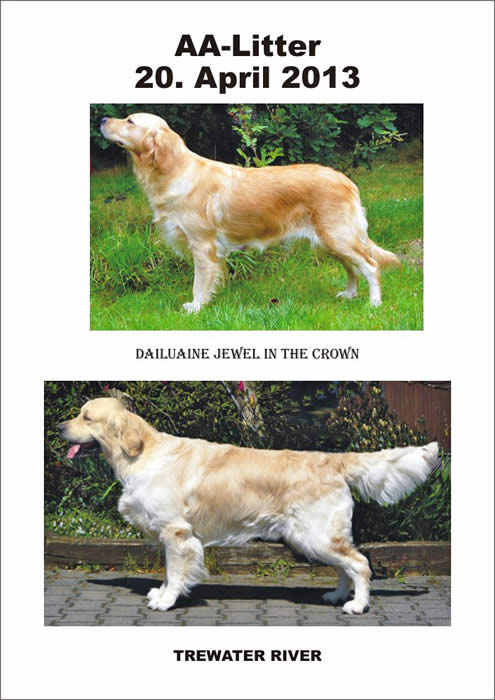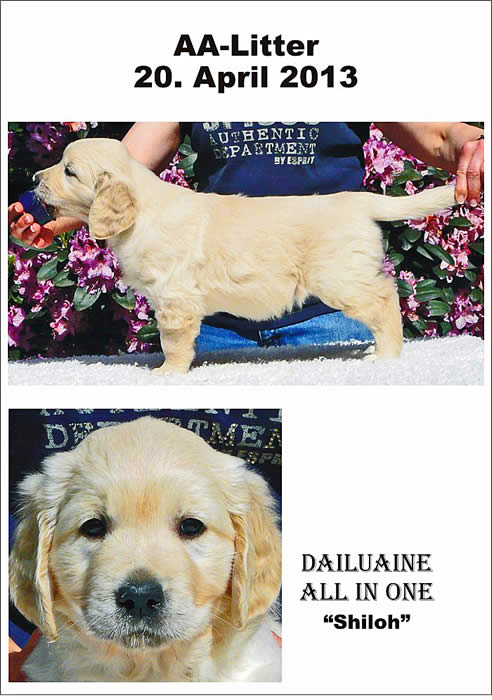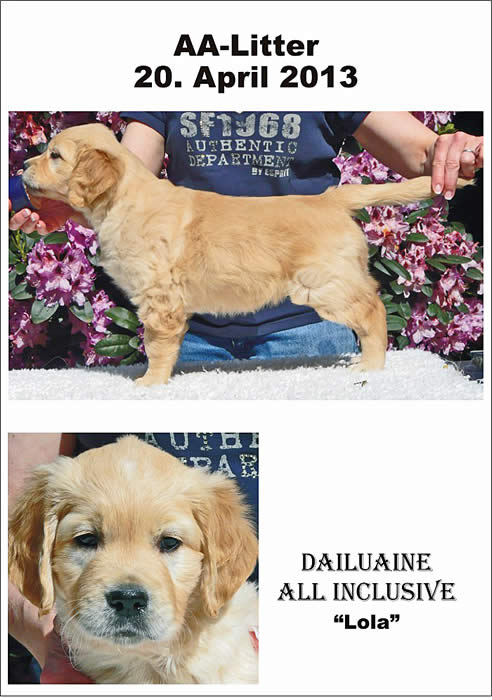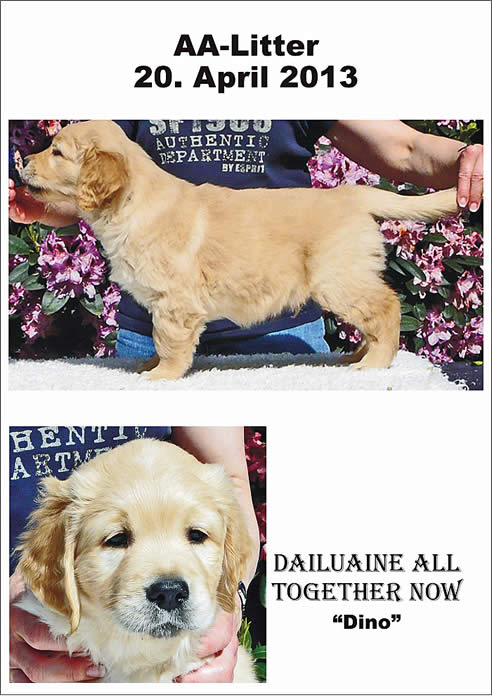 And last but not least the unctuous words right out the pen of our main-breedwarden:
"Excellent type, very nice heads, excellent bone, wonderful construction. Active, playful, interested in all. A very nice and very promising litter. Superb socialized puppies."
What should I say? I totally agree!