On June 16 in 2011 I  was mourning deeply. My Sunshine passed away. , I had to make the sadest decision a dog owner must make. I had to let Sunshine go in dignity without suffering. We had 14 wonderful years together. I'm so thankful for the time we could spend together. She will stay in my heart forever. But I take comfort over the loss in seeing her live on in her kids, grandchildren and great-grandchildren – as you can see here: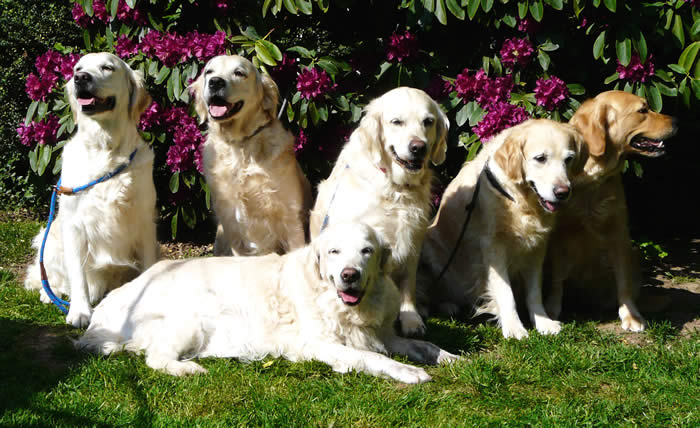 Sunshine is my foundation bitch – she is behind all Dailuaine's to date. She was the beginning!
Her kennel name is "Amirene Dream On" – for all those who want to check out her pedigree some 18 or so generations back. Maybe who the sire on the dame's side was back in 1901!
Sunshine knows how to play her charms and is a perfect example of the Amirene character and temperament. I will always be indepted to Margaret Woods for letting me have this special girl – she is the sunshine of my life – my dream came true!
Despite producing lovely puppies (35!) she managed to have a superb show career. Within 3 weeks she finished 3 (!) champion titles and was club winner. She was German Champion Club and VDH and Luxembourg Champion. She even won Best of Group 8 several times!  12 weeks after she produced a lovely litter of 8 puppies, she won first place in a very competitive class of 38 bitches!  She enjoys showing so much that once eligible for Veteran classes, she popped into the ring on 4 occasions – Best Veteran 3 times,  Best Veteran Golden Retriever once. Adding the title of Veteran Champion to her list of titles.
As a mother she is unbeatable! 5 litters, 35 puppies and if she could she would still love to have puppies! As a granny, she pampered her grandchildren and if necessary would also produce milk for them!
I can't thank Margaret enough for this wonderful foundation bitch!