Maisie is the dog I really wanted, although she is not bred by me but a good friend of mine – Gabi Höbel. Gabi fulfilled a hearts desire – to breed on with my original line: the line with Shadow, Sunshine, Skye and Shiloh. I couldn't do it by myself, because Shiloh – the one to be the mother – got livercancer and died a year after the diagnosys. Right after Shiloh died she offered to do a last litter with Milla, Milla is a daughter of Amy and Amy is a daughter of Skye. So, with that little detour I would be back in my original lines. She even let me choose the stud dog for Milla to get what I want.
Maisies Dad  should have been Rupert, a stud dog of Margaret Woods. But with taht raging corona virusit was impossible to go to England for a mating. That's why Rupert's semen had to travel to Milla. Everything was arranged, the semen sent by courier from England, Milla on the table at Dr. Blendinger, when a last test of the semen showed that not one of his sperms were alive. If they had corona too I doubt, but something killed them on the transport. Wew never found out what or who the semen killer was.
What now? Milla was overripe with a progesteron level of 14.2 – so it was now or never. I opted for now – but how? We went to plan B: Rupert's brother lived in Germany , so the same gene pool available. I immidiately called Evelyn Köster, the owner of Taavi – that's Rupert's brother – if Taavi is willing and able to take Rupert's place., Evelyn gave her OK and off we drove to Hamburg – 400 miles for Milla, me and my daughter Kathi. While we were on our way, my hubby organized a hotel room for us in Hamburg. That wasn't as easy as it sounds, because of corona private travel and hotel overnights were forbidden, only urgent business trips allowed. Well, he convinced the hotelmanager that sex is not a private amusement but business if dogs are involved.
Late in the evening we arrived in Hamburg to accomplish plan B, but Taavi didn't play along. It seemed that Milla was too overripe for his taste, he refused to mate her. What now? Giving up was not an option so we needed a plan C: An AI! But how could I find a vet willing and able to do an AI on a weekend, if you are in aforeign town and it was in the middle of the night on a Friday. Nothing short to a miracle could save us now. The miracle was Prof. Sandra Göricke-Pesch the head of the reproduction clinic at the TIHO Hannover. I know her for over 20 years and numerous dramas and happy endings formed a close relationship between us, so I called her in the middle of the night and on the spot she agreed to help us. She was willing to come to her clinic on a Saturday right out of her holydays. You can imagine how gratefull I was. Evelyn agrreed too to pack up Taavi and bring him to Hannover the next day. And off we drove to Hannover on Saturday morning – another 120 miles.The AI went fine, 4 weeks later we learned that Milla was carrying, 9 weeks later Maisie was born and another 9 weeks later she moved in our life. What a happy end after such a colossal drama.
Now that she's here let me intoduce Maisie officially: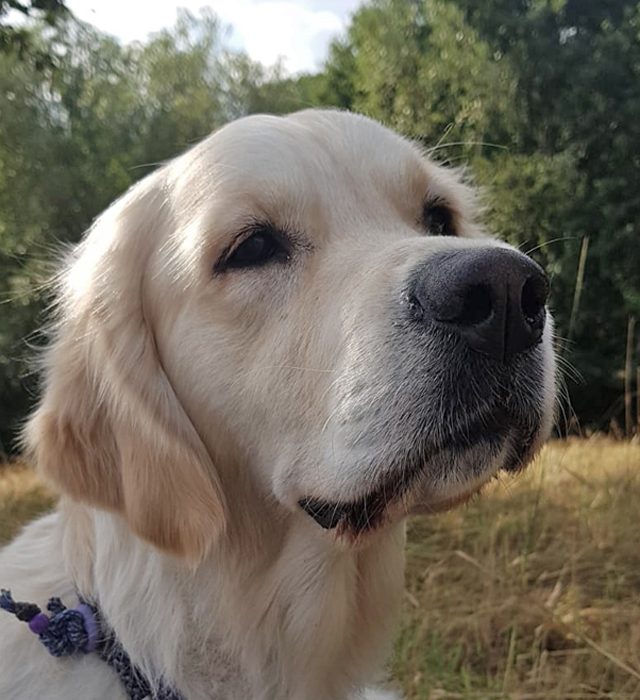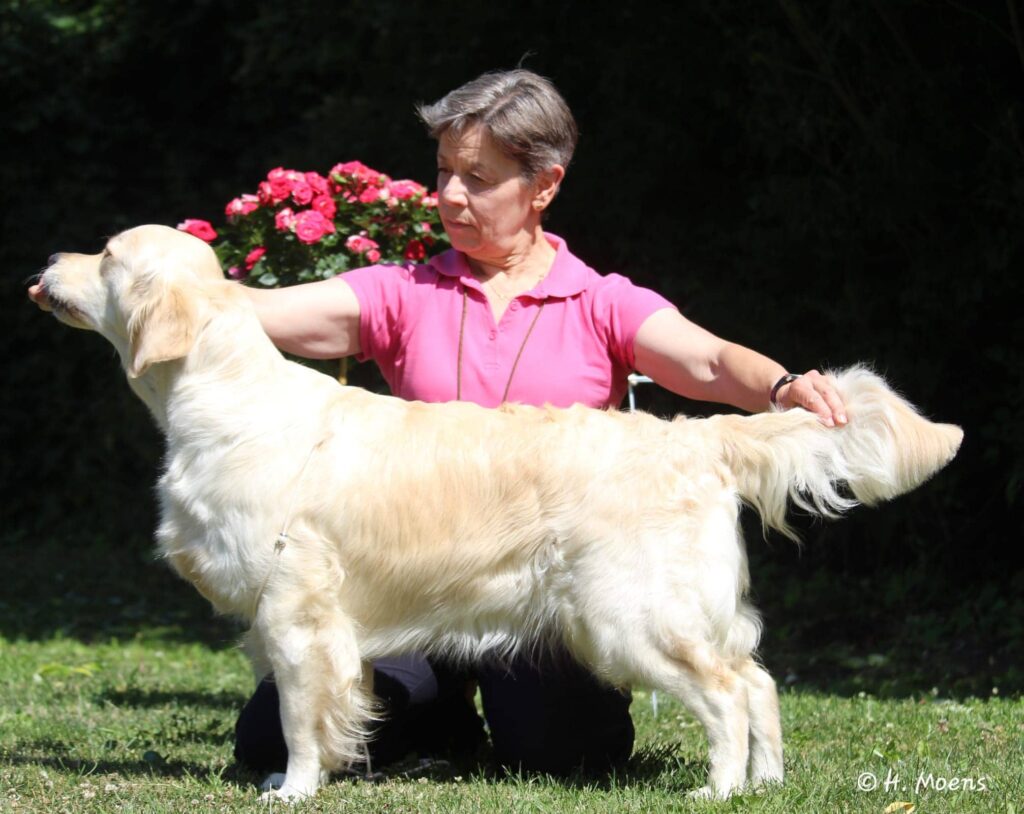 let's have a look at her pedigree. I told you already how important it was for me to breed on with my original lines. And here they are: Skye, Sunshine and Shadow in her pedigree. And the other dogs in there will let the experts be awestruck and the others can marvel at the many Champion-reds: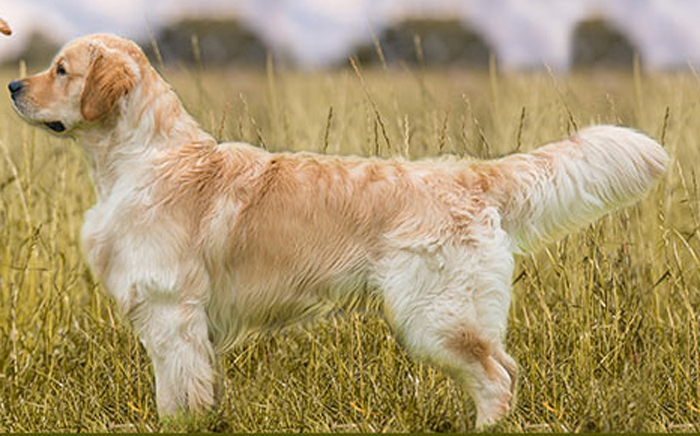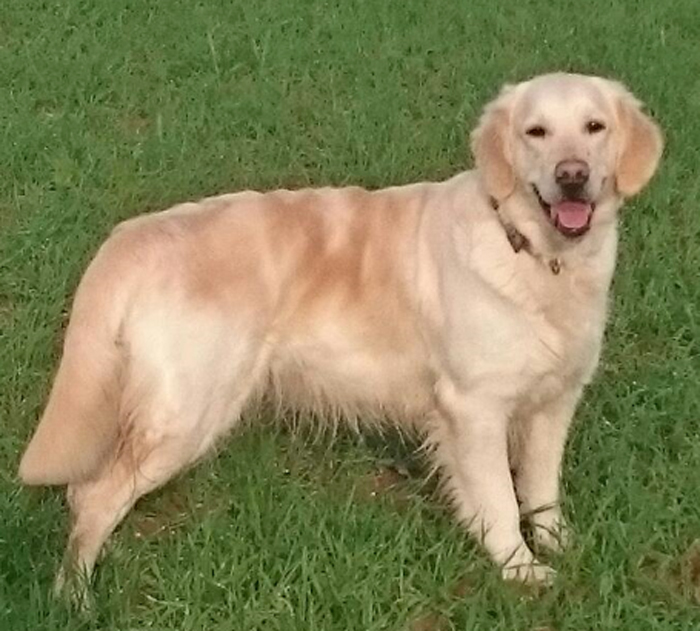 Maisie is a real jumping jack, always in action and fill of power. In spite of that she can switch from action into a cuddle coon in no time. Maisie is a typical corona dog. Due to limited contact to other people and dogs she built up a very strong bond with me. That's nice but sometimes a bit annoying too, when I'm not around she can go doolally. But we work on that and she's getting better all the time, proved by her temperament test:
"A friendly, confident bitch. She has fun running around with the pack
of other dogs.She joins the group of people all by herself,
looks from one to the other and shows a high level of confidence.
She barks at the jogger but right after that she let him touch her,
lays down and enjoys the petting.
She is steady with optical and acoustic stimuli as well as with the shots.
She runs after the dummy and towards the shooter.
The bitch is gunshot-proof."
You won't blame me for believing that  Maisie is one of the most beautiful dogs on the globe. However, beauty is in the eye of the beholder, so let other beholders talk about it. First the breed standard evaluation – full of "excellents":
"Excellent bitch, feminine head,  excellent charisma, dark eyes,
excellent coat. Excellent construction correct in all parts.
Excellent on the move."
And Liz Pope, one of the Grand Old Ladies of the Golden breed and one of the very experienced andsuccessful breeders in England wrote about her:
"Well put together, I like her head, which is balanced with a soft expression,
nice eye, good reach of neck into excellent forehand construction
with good length of layback and correct upper arm, well spring rib,
good topline creates a very nice outline, moves well.
Very nice bitch. Excellent."
Maisie has proven that she is able to present herself brilliantly in the show ring, she has the talent to become e real show girl. But because of corona there are not so many opportunities to show her, so I decided to prefer family to career and she became a mother at the tender age of two and a half years (take a look at the RR-Litter).
So, we wait and see what comes next.
A summary of her key facts:
Day of Birth: 26.06.2020
Hip Score: A2/A2
Ellbow Score: 0/0
Eyes: clear
And now follow me through some impressions of her life: