Let's start with the sad news: Shiloh went over the rainbow bridge in January 2021. Her liver cancer won. She had to surrender after a real heroic fight. She got the devatating diagnosis autumn 2020 – liver cancer – aback in autumn 2020 with the prognosis of 6-8 more weeks to live. All five lobes of her liver were affected so no surgery possible. My dear old friend – Horst Haase – a reknown naturopathic practitioner with a long experience in homoepathy – developped a homeopathic therapy for her and I had to give her different shots everyday. And it helped, it didn't heal her, but she lived with us for more than 14 months. It was still a happy life with lots of action and loving. Nobody could see or notice that she was sick to death.
Horst, I am thankful for those unforgettable 14 months. Although we knew that it could happen everyday her death came without warning. My grief was immense as you can imagine. I hope you enjoy your life in dog's heaven. We all are thankful for the lovely time we had together, you will stay in our memory for ever.
Enough of mourning, let's remember the good times she shared with us …
As all of my dogs Shiloh is something very special. However, this time it is more true than ever.
Shiloh's official kennel name is DAILUAINE ALL IN ONE and it explains why she is special. My breeding is based on two major english breedlines, both out of highly decorated and reknown kennels full of tradition and quality. One one side the AMIRENE-Line of Margaret Woods, on the other side the TREWATER-line of Jane Clark. And Shiloh combines these lines perfectly. Shiloh's mom -Dailuaine Jewel In The Crown – represents the Amirene-line and Shiloh's dad – Trewater River – the Trewater-line. That's why she is called ALL IN ONE.
Here's her bloody good pedigree – for the experts to arouse euphoria and for the rest of the world to count the reds, the champions: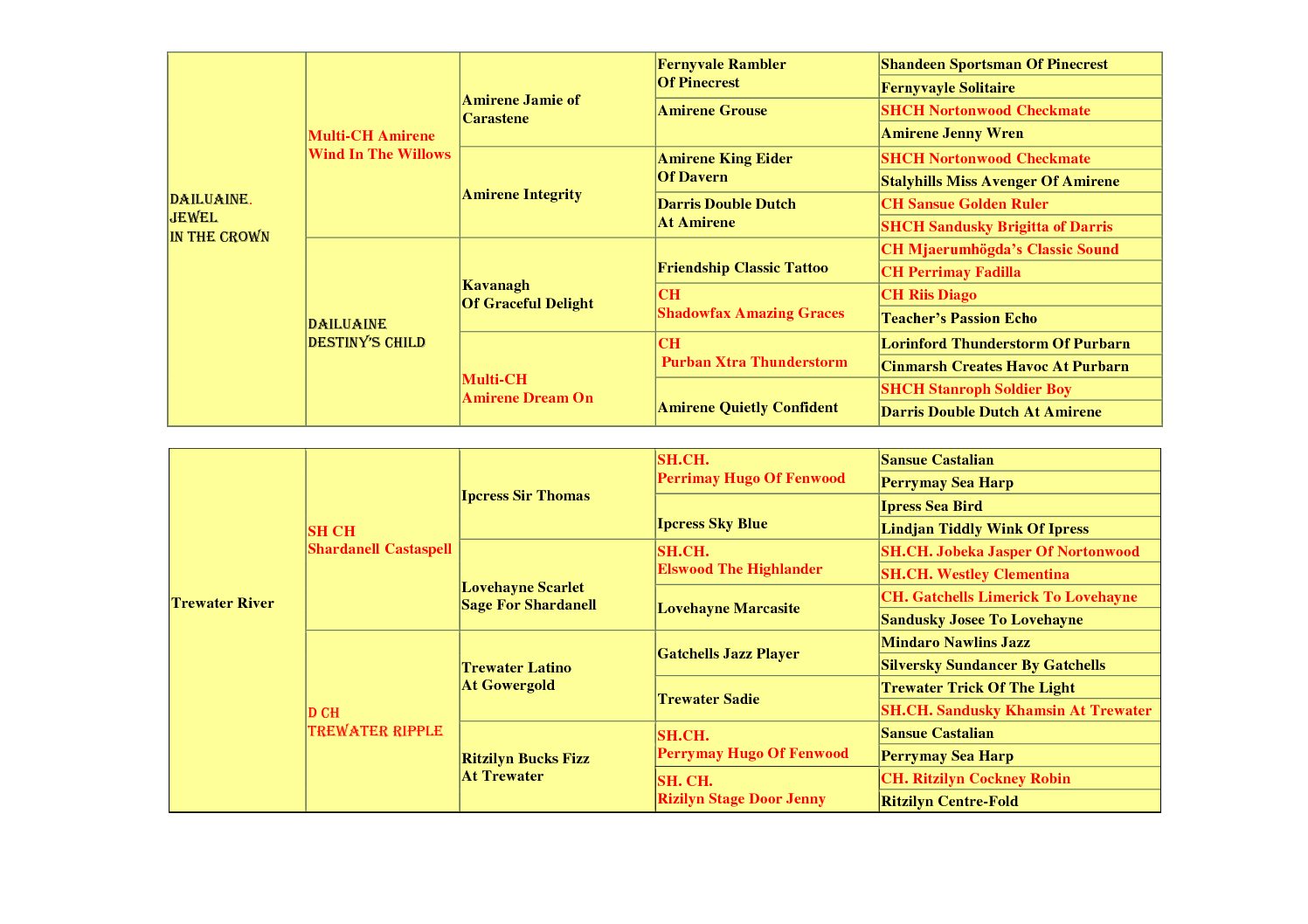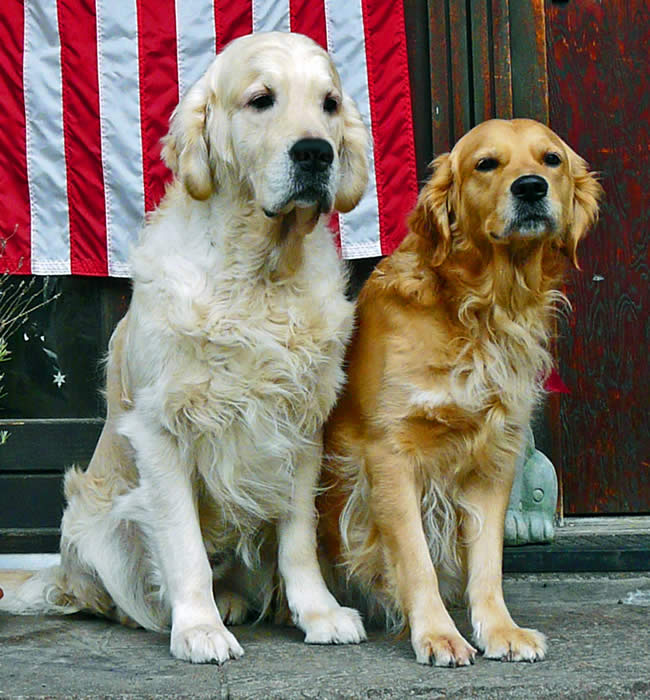 Shiloh was born on April 20,2013. And? Did she accomplish what I was hoping for? Definitely yes! Shiloh is a stunning beauty and her temperament can't be better. You don't have to trust my – let's say a bit subjective opinion – jut read what other people think of her:
here's the evaluation of the temperament-judge:
"The bitch showed absolute self assurance and joy of life exploring the premises and running around with the pack of dogs. She hanled pushy dogs very sovereignly. She was very interested and attracted by optical and accustical stimuli. Her gundog abilities are distinct up to passionate. Towards humans she showed an excellent will-to-please and was very cuddly. While shooting at first a little wait-and-see then retrieving all dummies with passion and joy. The bitch is  gunshot proved."
The show judge wrote about her:
"A bitch of exquisite type., excellent proportions, very nice head, good length of neck, excellent angles, top-line and tailset. Excellent coat, excellent movement."
Shiloh too is a victim of our malicious neighbour and the building authority, she has a new family but I kept the showing and breeding rights. It is more than obvious that you and especially me have to breed with this bitch. Sorry I almost forgot that breeding is forbidden to me, so it is more than obvious that this dog has to have one or two or … litters. her health results are more than good: HD B1/B1 , ED 0/0 ; eyes clear, conformation excellent ; no restrictions. Shiloh already whelped once – our II-Litter ( you can read all about it under "breed history"). Just right now – November 2018) we're waiting for her second litter.

Oh, by the way – Shiloh was along when we went celebrating  the 150th anniversary of the breed in Scotland in summer of 2018. I entered her to the Championship Show there, and guess what. She got second place in limit class and that got her a lifetime qualification for Crufts. If you don't know what Crufts is: Crufts is the most ambitious dog show on earth, Crufts is the Wimbledon among dog shows. My chest was swollen with pride – from B to DD, if you know what I mean.

Enough jibber jabbering – let's look at some pics: