The NN-Litter is a bit out of the ordinary. Well, I'm known as a crazy chick, however, I haven't been so "crazy" for a long time – some may assume. Rhoda is the mother of the NN-Litter and she is out of my legendary DD-Litter. Legendary, because her Dad died a few days before the mating (navigate to DD-Litter to get the whole story).  "If Rhoda had a dead father, why shoudn't she have a dead lover?!" Sounds a bit strange and crazy, but it isn't at all.  Because I choose Sunny as her husband and ThankGod I saved some frozen semen of him. Sunny is a true Amirene and Rhoda the best combination of the Trewater/Lochteymore-line. Denn als ihren Gemahl habe ich Sunny auserkoren, von dem ich GottseiDank Samen habe einfrieren lassen. Sunny ist von der Abstammung her ein echter Amirene und Rhoda halt die beste Kombination aus Trewater und Lochteymore. I couldn't resist this unification, because it means no unnecessary dilution of both breed-lines. A short glance at the pedigree proves me right: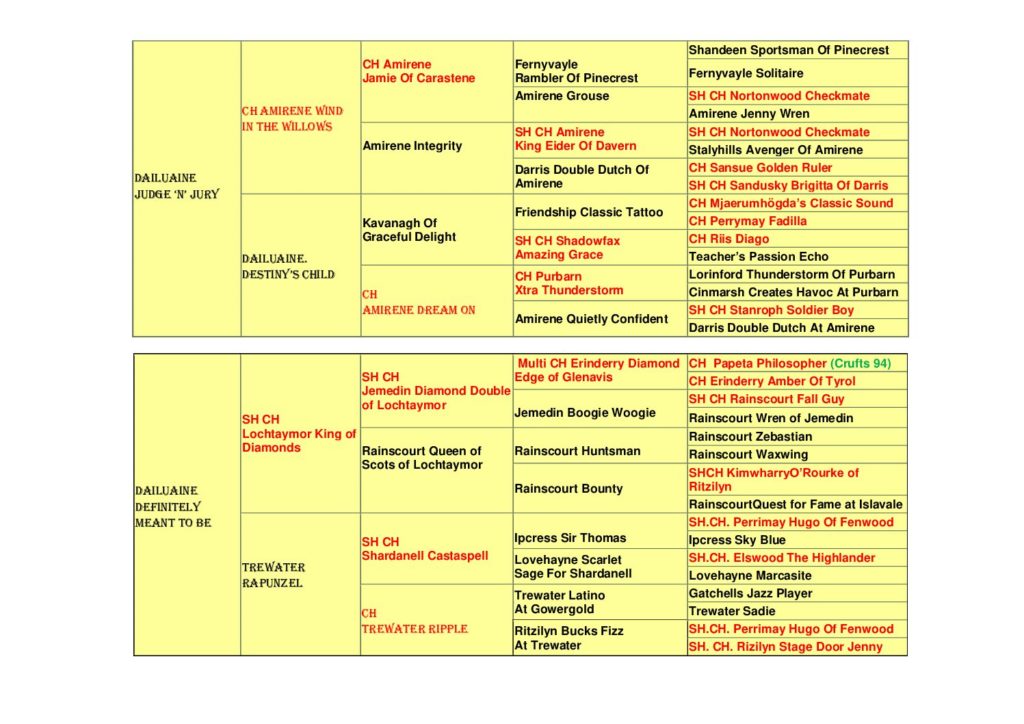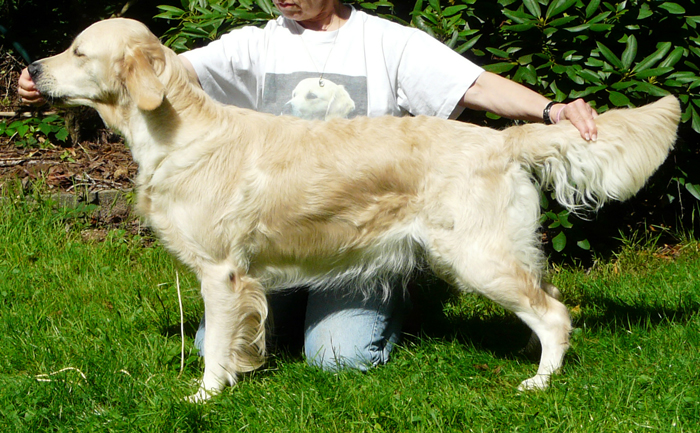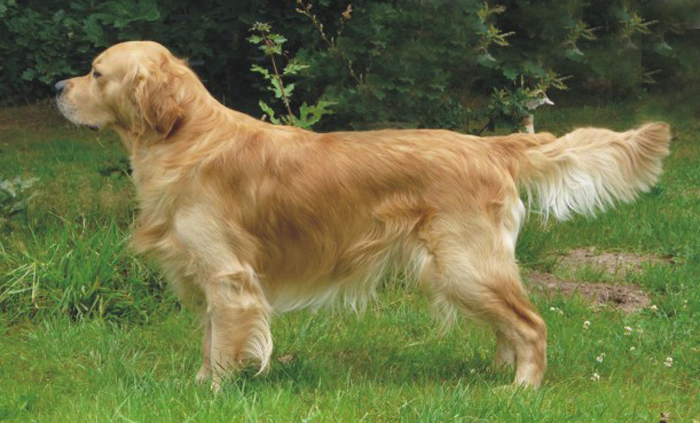 The mating went very professionelly and clinically: Defrost the semen, charge the syringe and inject. The whole thing competently mastered by our reproduction-guru Dr. Blendinger – as usual in similar cases. For this procedure I gave Rhoda a picture of Sunny along – just for a bit romantic atmosphere.
Pregnancy and birth went along without any problems, the result: 6 boys and 3 girls, not quite ideal but tolerable. It might have been better if he aimed the injection more to the right down corner, where normally the females hide.
However, it's the way it is and here they are, our little NN's: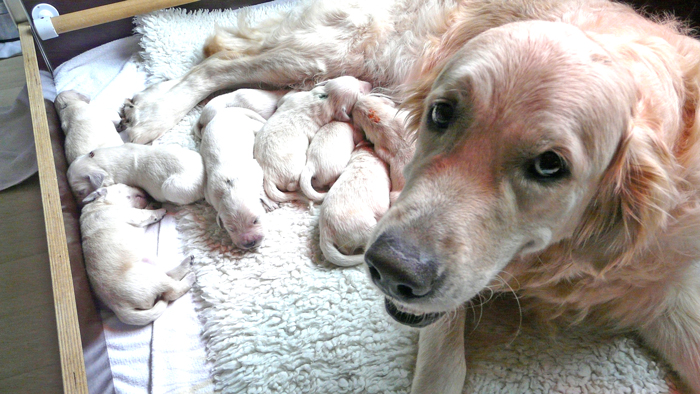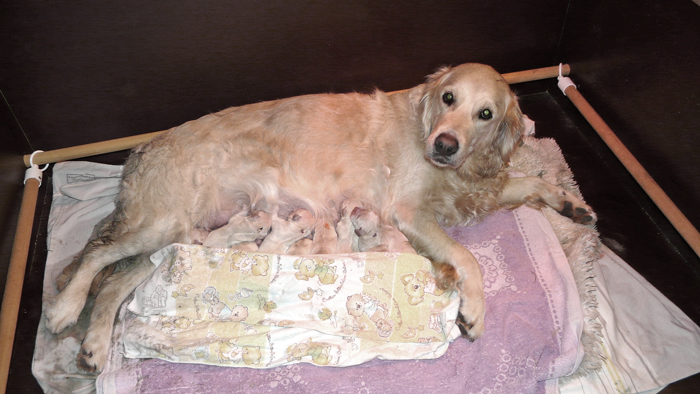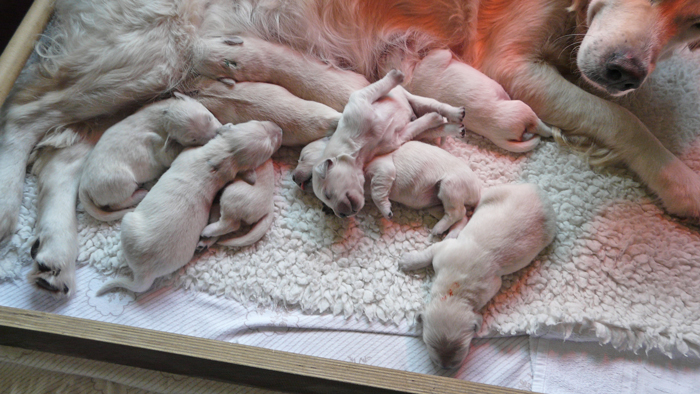 The next eight weeks were hunky-dory as well. What a well balanced litter – no nightmares, no funks, no bossy goops, no retards. Everybody lovable, friendly, active, cuddly – a litter for the books.
however, look at them yourself Here's the well liked and famous carousel:
I think it is about time to present the little NN's in a more formal way – here are the official beauty shots: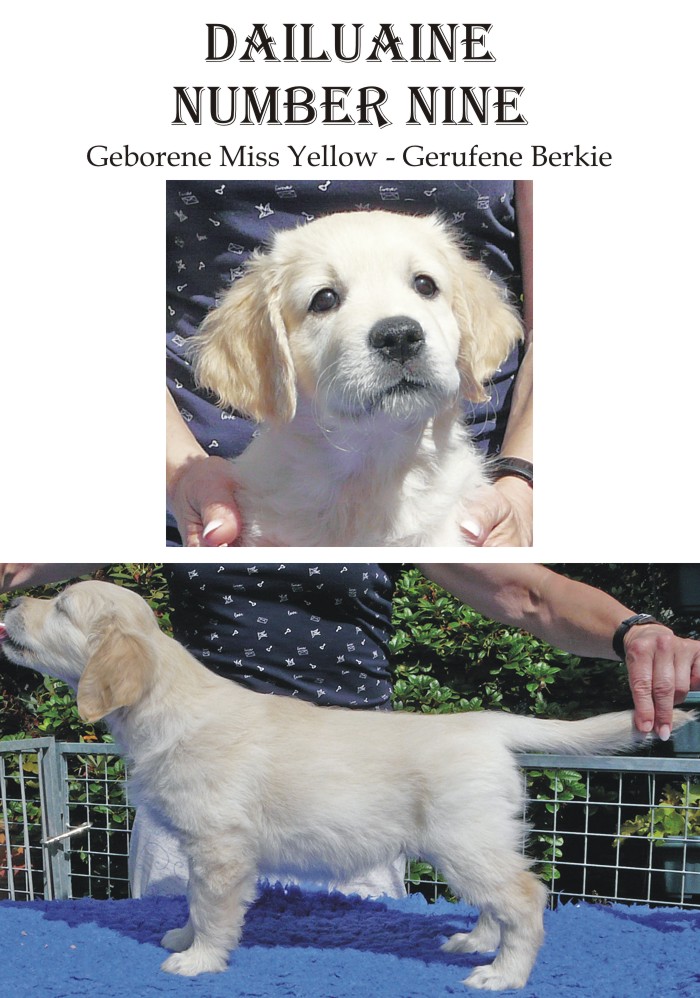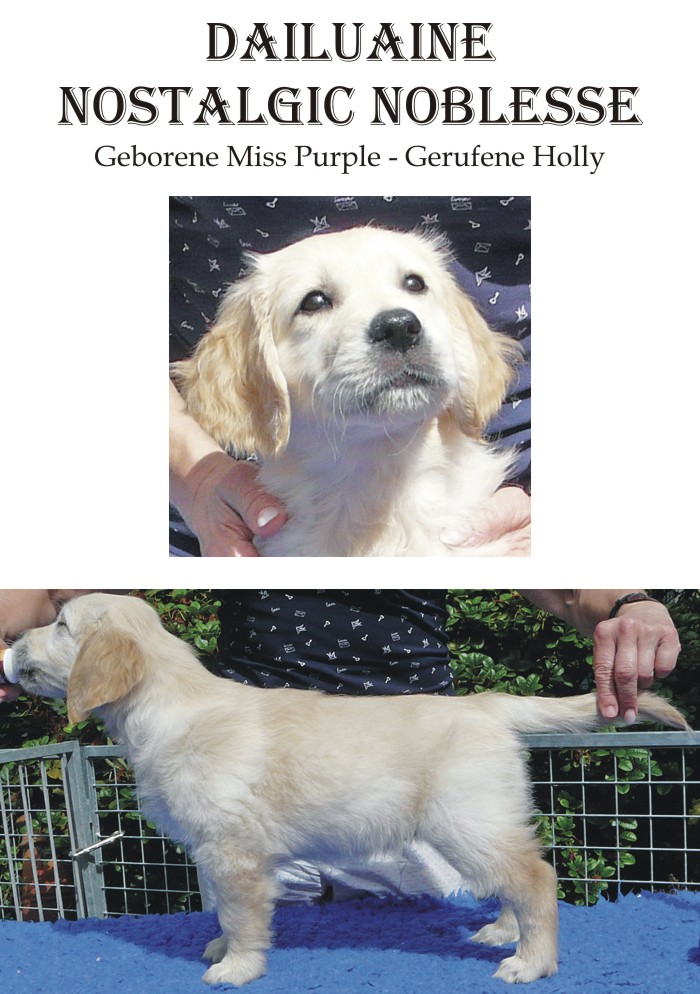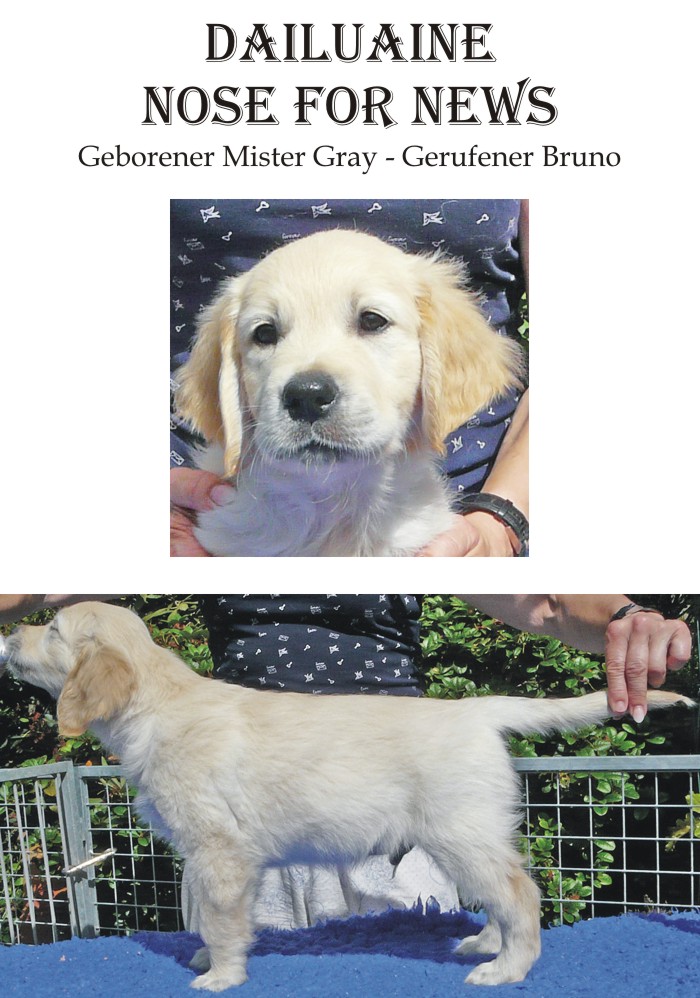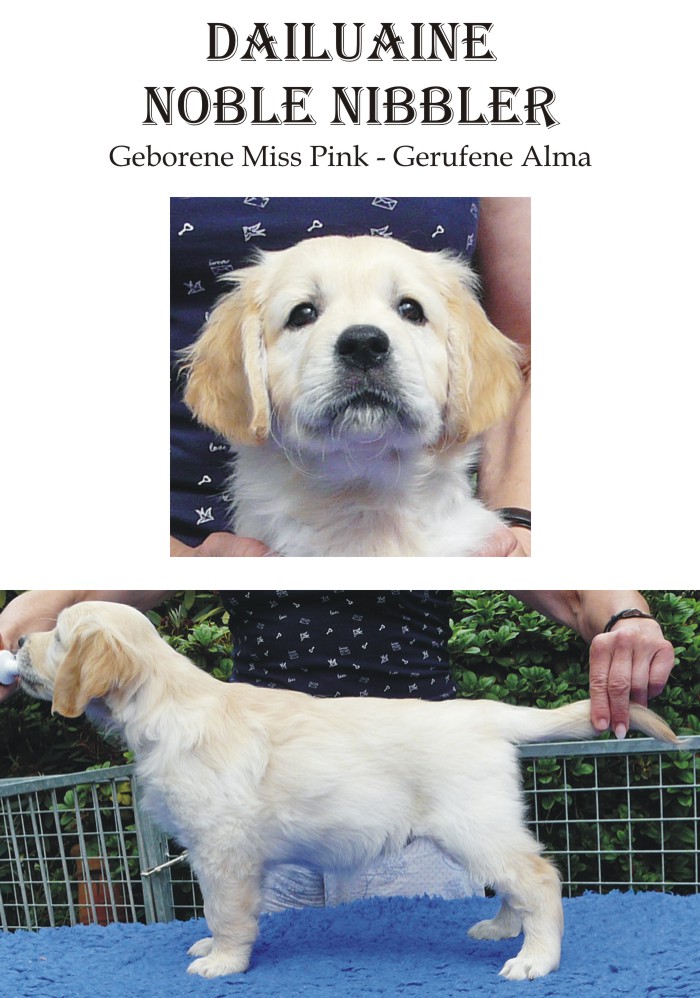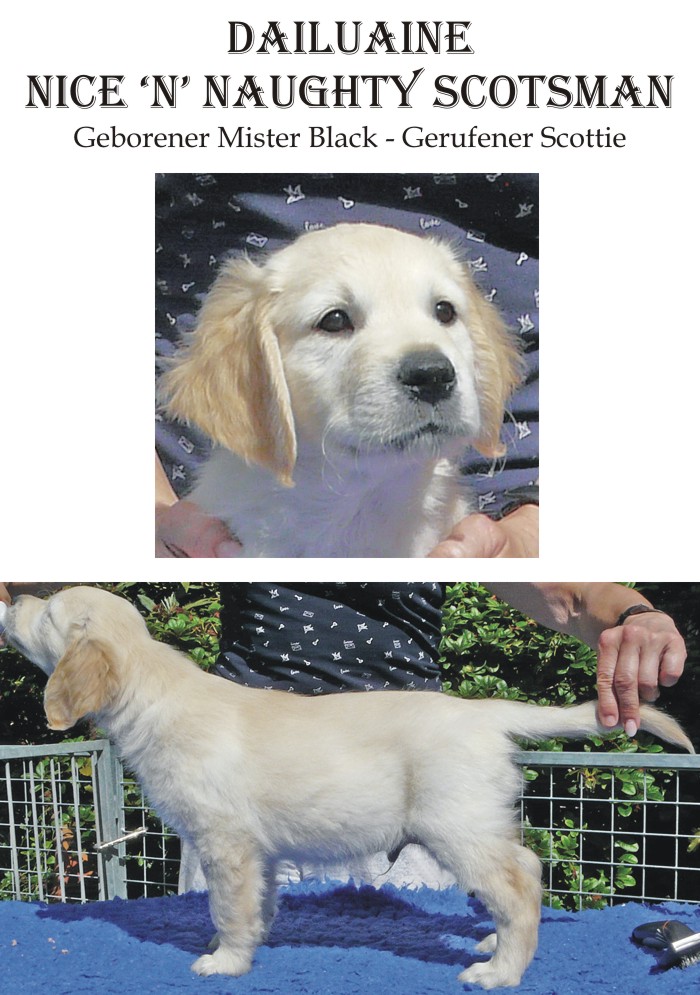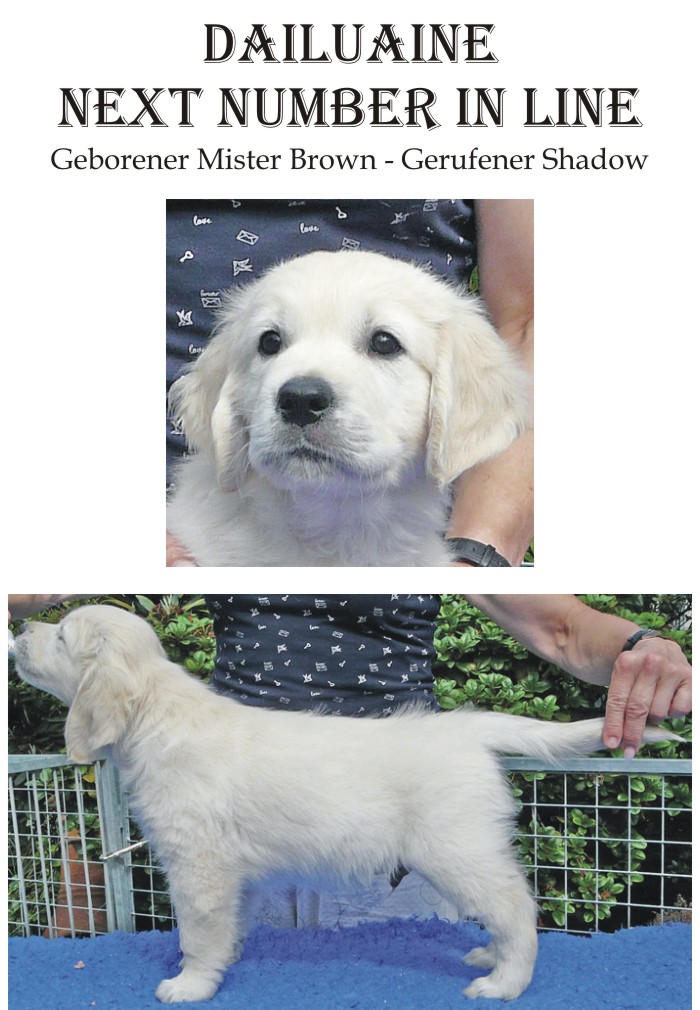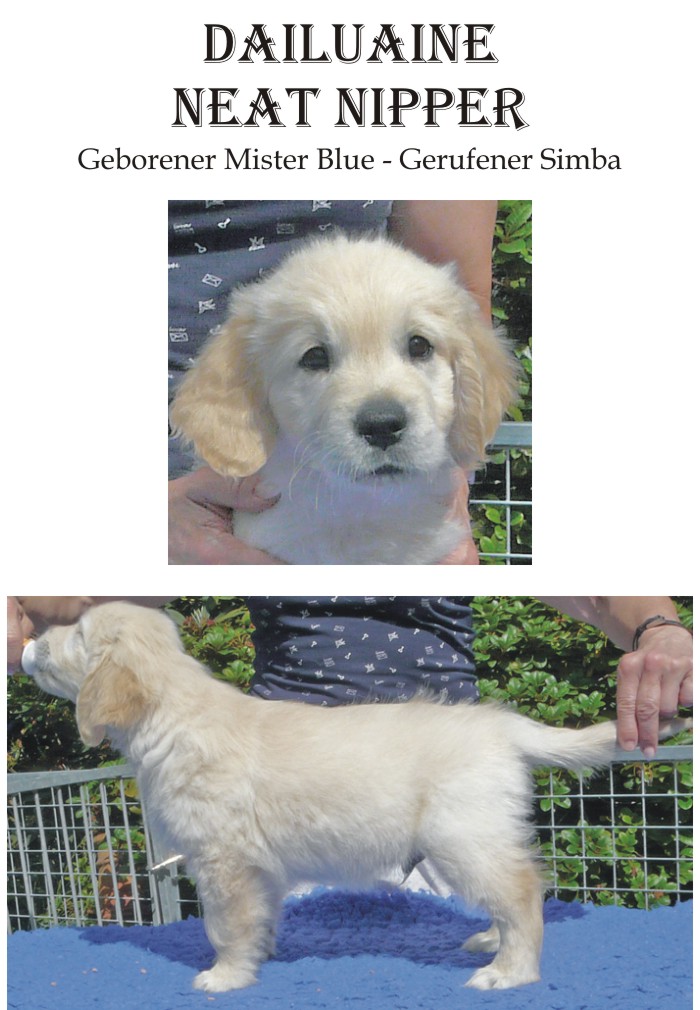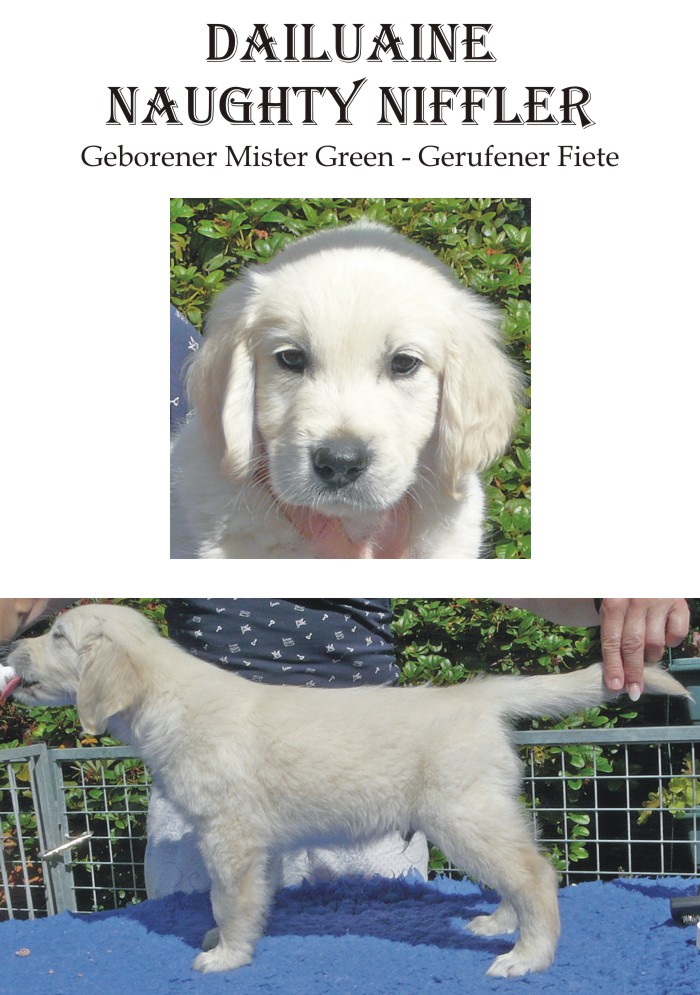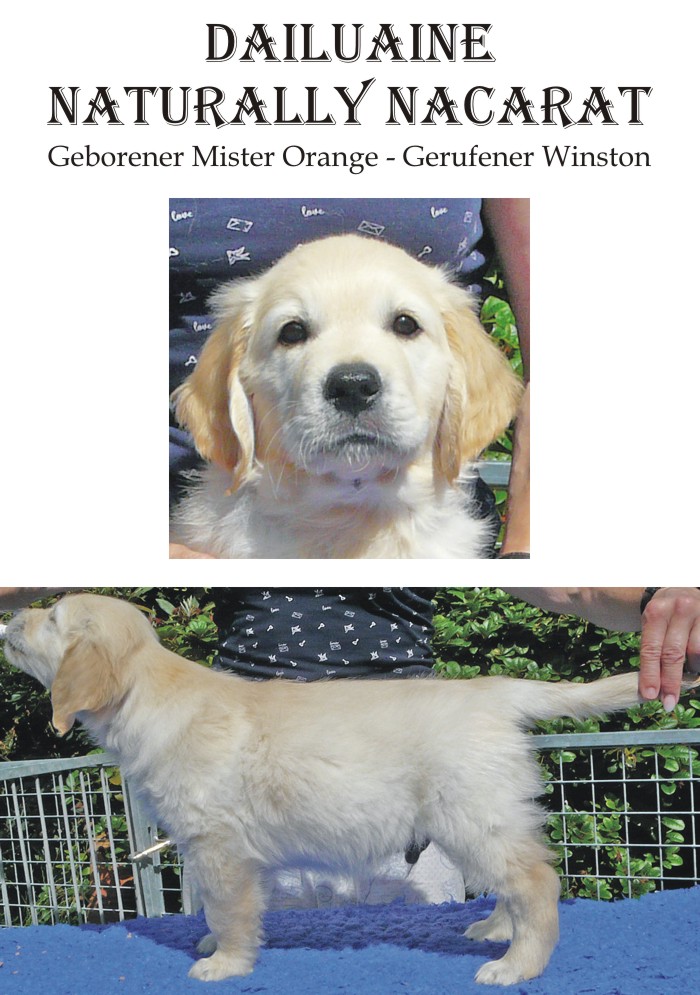 That's all folks about the NN-Litter. I wish them and their new families all the best and all the luck and happiness they could get. They deserve it.
The best at the end: the very true remarks and evaluation of the breed-warden:
"Typical Golden-Puppies with
super pigment, very nice construction,
very nice and appealing heads, dark eyes.
The puppies are friendly, confident
and absolutely human oriented.
The puppies are very lively and active and playful.
A nice litter, very promising and of balanced quality!"