Rhoda touches my heart maybe a µ (1 Mu or a millionth of something) more than others. It may come from her life story. Rhoda is out of our DD-Litter which attracted dramatical situations as light attracts moths. Her father died under tragic circumstances a week before her siring, her sister suffocated from a goodie right before her eyes, another sister had to be operated only six weeks old and a third sister was rehomed to us in a cloak-and-dagger operation from Wales. I think she deserves to be spoilt a little bit more than the others – but surely not more than a µ.

Now it's time to take a look at Rhoda: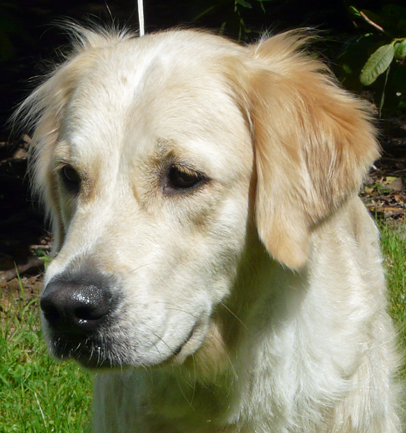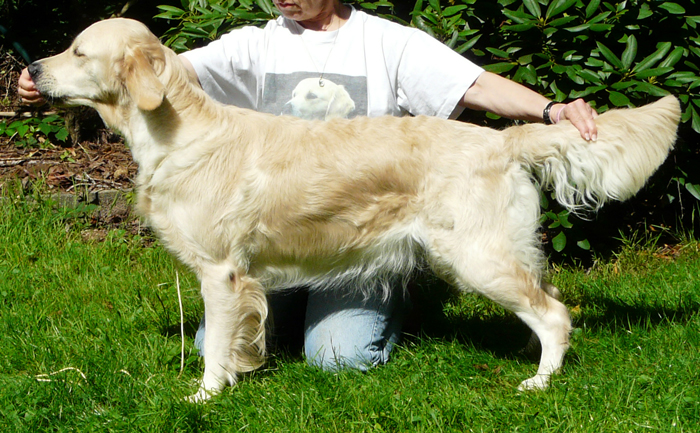 Now take a closer look at her descent. It's something very special too. Because it adds a third, very traditional, famous and outstanding line to my breed – the Lochteymor-Line. Experts are awestruck by Rhoda's pedigree, ordinary people count the reds as usual.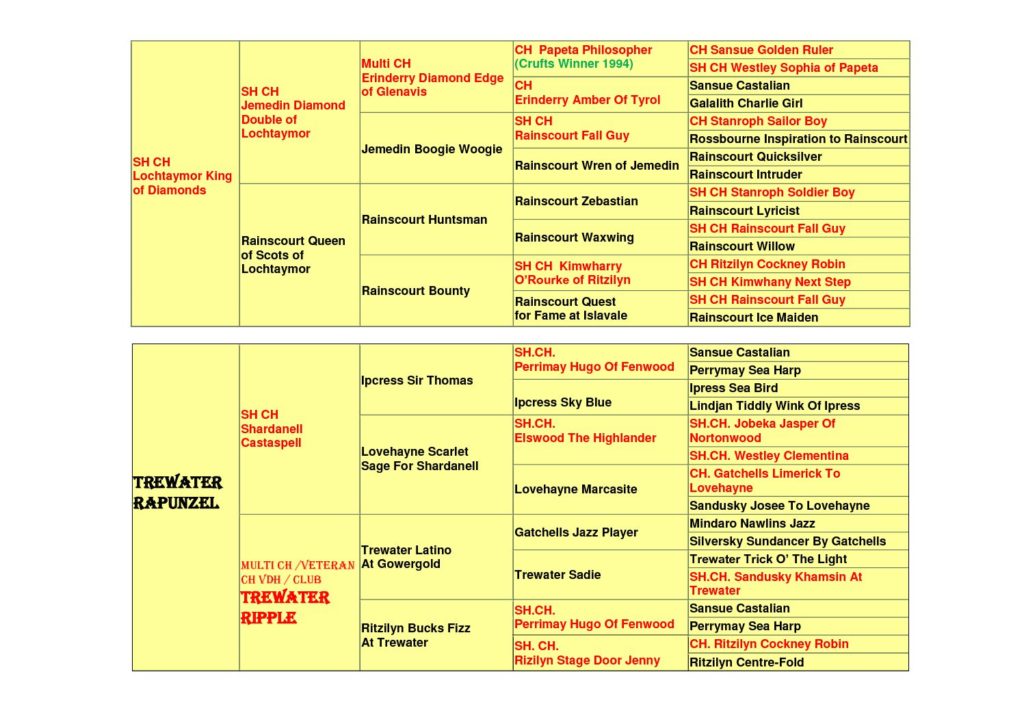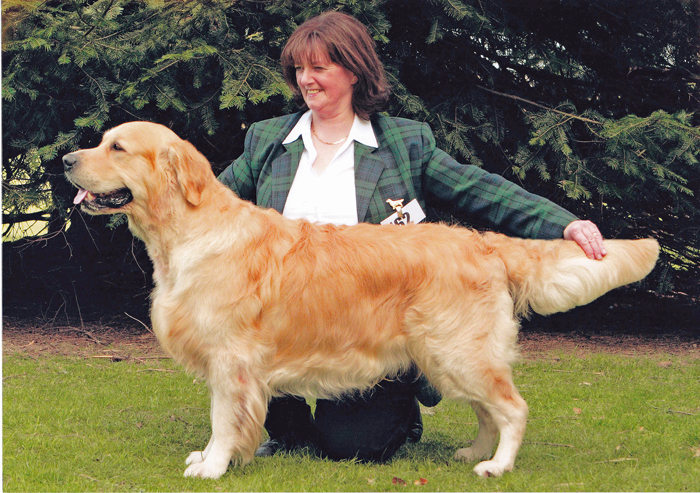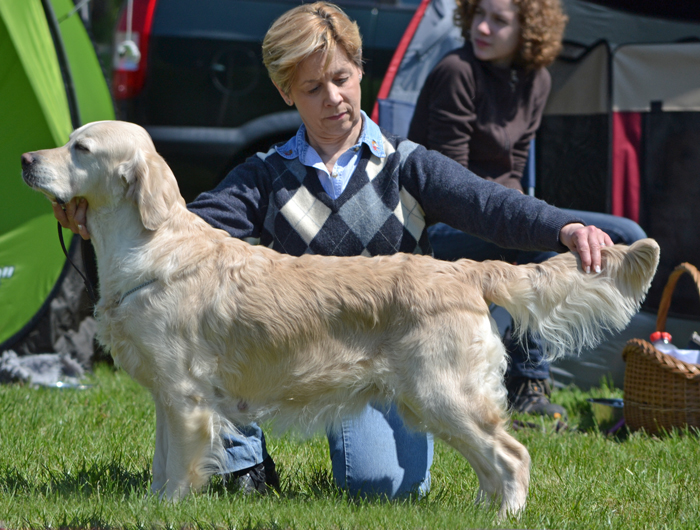 Rhoda turned into a wonderful dog, fulfilling my boldest expectations. Her temperament is outstanding, absolutely friendly and cuddly which makes her to my grandchild's favourite, her "dodely". She is not one of the "hit-and-run-me-first" – dogs, she is one of the more reserved and wait-and-see type, a character I like, because it helps bonding and trust in me and her nearest surrounding. She has all the goodies a Golden should have – human related, cuddly, but still full of activity and with a good gun dog spirit. That showed her temperament test as well:
"Distinct temperament, thirst for activity and playing, passionate in picking up a trail. Towards other dogs secure and trustful, no sign of fear or cringingness or aggressivity. Towards her owner she showed a very good bonding, attention and obedience without cringingness nor insecurity nor dominance. Towards strangers first a bit reserved but not aggressive or mean at all. The shots were taken nonchalant and without fear. She is gunshot proved."
I can live mighty fine with this evaluation. Her outer beauty is as overwhelming as her innert values. She earned her first merits in the showring, however I had to respect that she is not a real showgirl. She does it just to please me but it's not what she likes best. Not everybody has to stand in the spotlight every day. It be as it be – her conformation is superpe, just like the evaluation of our breed judge:
"Good size, feminine head, very  expressive, dark eye, excellent coat, excellent conformation and construction, mabe a lit long, excellent angulations, excellent movement."
Her health results are super too, her breed permission immaculate: HD A2/B1 ; ED 0/0 ; eyes clear ; no restrictions ; conformation excellent.
Time to think about family affairs – Rhoda is 3 years now (2018) – the best age to become a mom. Well, we are working on that, maybe soon we can report: mission accomplished!
Before that happens – some impressions of a virgin dog: